Ancient Byzantine Icon Painting Course with the Prosopon School of Iconography
A 7-day iconography course led by Deacon Nikita Andrejev
Over the course of this 7 day iconography course, students will learn the contemplative practice of icon writing using the ancient art of liquid egg tempera technique. The practice of crafting an icon will be enhanced by the study of the theological world view from which the practice emerged. The symbolic meaning of the iconic forms, as well as the materials and the processes involved, will therefore all play a part in the practice.
The icon written during this course will be of Archangel Michael.    Absolute beginners are very welcome.
The class also welcomes experienced icon painters whom have not painted in the Prosopon style and are interested in experiencing the technique and approach, or those who value repeating this particular icon.
If you have prior experience with the Prosopon technique and are wishing to continue your practice please contact us at events@christianheritagecentre.com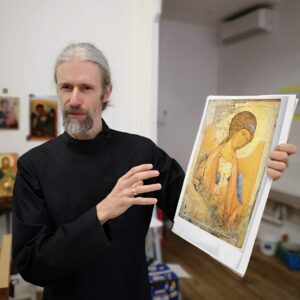 For years Nikita Andreyev apprenticed to his father, Vladislav Andreyev; complimenting this experience with postgraduate theological studies in Paris and the United States. He speaks excellent English.
As a member of the faculty team of the Prosopon School of Iconology, Nikita has contributed to the development of unique teaching methods. The resulting work-shop experience enables participants to create and grow through their icon making, developing spiritu-ally through each icon.
Since its founding in the 1980s, the School has rediscovered lost techniques of the ancient art of liquid egg tempera and has helped ignite a renewed interest in icons across the USA and the western world.

About the venue
Theodore House offers a wonderful venue for icon painting. With abundant natural light from the glass roof panels flooding the atrium, this is an inspiring venue for icon painting. The tranquil and beautiful surroundings of the Stonyhurst estate offer an ideally peaceful setting. The first floor gallery, which gives access to the comfortable, en-suite bedrooms, affords a birds-eye view of the workshop below. Guests will also enjoy the comfortable recreational spaces and a beautifully lanscaped garden.
Classes start in the morning of Saturday 25th June. Residential participants are welcome to arrive from 6pm on Friday 24th June, with dinner being included that evening.
Classes end in the afternoon of Friday 1st July, with departures from approx. 4pm.
Cost
Full board* & lodging, single room: £790 p.p.
Full board* & lodging, twin room: £690 p.p.
Non-residential, full board (lunch and dinner*): £540 p.p.
A deposit of £200 will be required upon booking. This is ordinarily non-refundable.
Please note: all meals on this course are fish or vegetarian, as is the custom in this work
* See the Christian Heritage Centre link below to register for this course.